For Adults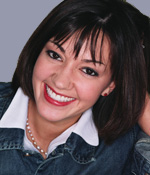 If you are an adult thinking about orthodontic treatment, we want you to know that you are not alone. One out of every five patients in orthodontic treatment is over 21 years of age. Orthodontic treatment can be successful at any age, and adults especially appreciate the benefits of a healthy, beautiful smile. With today's less visible braces, including Invisalign, you can feel comfortable about the way you look while in treatment. With the new appliances we use, such as the self-ligating ceramic braces, the number of visits is reduced and discomfort is decreased significantly.

By age 35, three out of four adults have some form of periodontal disease. Also, crowding typically occurs in the lower front teeth, making teeth harder to keep clean. Orthodontic treatment results in better dental health.

Call our office today for your complimentary initial appointment and start improving you smile and dental health. It's never too late!